On November 28 news began to circulate that IOTA has officially partnered with companies such as Microsoft, Cisco, Samsung, Fujitsu, and Volkswagon in a 2-month long demo to promote data openness. That Sunday the price and volume of IOTA surged. The volume, in fact, was way above normal, which set off an immediate red flag of an imminent pump and dump.
Cisco was contacted. This was their email response:
I checked Volkswagon's websites and could not find anything. Also waiting to hear back from them.
There is this promotional video, so it is very possible:
With Microsoft, information was provided that does show the possibility of a partnership, however, this is the only tangible evidence. Nothing exists on their site to confirm this and we are waiting to hear back from their PR: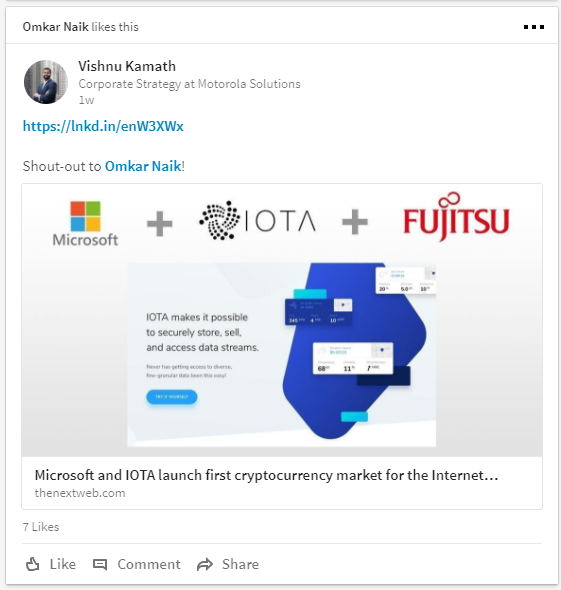 As expected, by December 5th we began to see this was a classic pump and dump maneuver:
Then I came across this, a tweet from Kyle Samani: cofounder and manager of a cryptocurrency fund called Multicoin Capital:
Here is the MIT article disclosing this experience. It is important to note that bug in the code no longer exists.
"The current IOTA tangle requires a trusted party (the coordinator) for security, suggesting that in its current form it's not ready to run as a truly permissionless, decentralized system. Others have written about IOTA's use of a trusted coordinator and asked about the incentive structure — whether users of their system have an incentive to converge the tangle if each acted selfishly."
"… the fact that none of IOTA's partners raised these concerns about a glaring vulnerability in a ~$2B cryptocurrency, or spoke about the other red flags, is worrisome." 
The cryptocurrency realm is an extremely adventurous and dangerous terrain where fortunes can be made or lost. As IOTA clearly demonstrates, always do your due diligence before investing.